Volunteer with ASCO
Where Knowledge Exchange Creates Positive Change
ASCO's volunteer program continues to expand each year. At any given time, there are more than 2,000 volunteers helping to shape ASCO's direction across 200 volunteer groups.
Help Guide ASCO, Build Relationships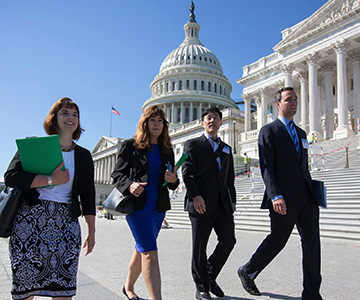 Volunteers are dedicated professionals, leaders, and experts in their fields whose skills, passion and varied perspectives help advance the mission of the American Society of Clinical Oncology and the Association for Clinical Oncology (collectively, ASCO). Volunteers provide invaluable leadership and insight to ASCO's direction, activities and projects, and serve as the backbone of ASCO's work.
Volunteering offers members opportunities to shape ASCO's direction while, at the same time, building new relationships with fellow professionals in the oncology field. Whether serving on a committee or participating in Volunteer Corps activities, volunteers have regular opportunities to interact with new people and make important contributions benefiting others in the field.
Are you looking to expand your professional network and contribute to ASCO? Volunteer today and join the thousands of dedicated professionals who give their time and expertise in support of the mission to conquer cancer through research, education, prevention, and the delivery of high-quality patient care.
"Participating in ASCO's concerted efforts to improve cancer care for patients and families both nationally and internationally has provided me with an even deeper energy and drive at the local level. ASCO's influence on my increased passion has helped me to enable the total health of my patients and to connect with them on a more personal level than ever before."
Piyush Srivastava, MD
Kaiser Permanente